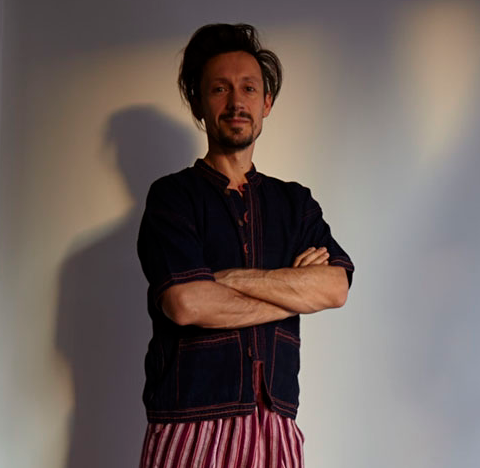 Pasha Radetzki is a visual artist working in sculpture, architectural-sculptural installation, performance with live sound, painting and eco/social art initiatives.

Arriving in New York in mid-90s, he founded multidisciplinary art studioRa in Manhattan which invited collaborations with other artists and disciplines.
Radetzki's artworks received the Future Art Award from Mozaik Philanthropy in Los Angeles in 2022, CodaWorx Award (2014) and the ArtsLink Award in New York (2002).
In 2023, the public art project 'Unity On Union Square' was awarded the Creative Engagement grant from Lower Manhattan Cultural Council (LMCC) and NYC Department of Cultural Affairs.
Thematically Radetzki's works focus on unity and interdependence of human experience placed within the context of contemporary social and natural environments.
He further experiments with conceiving of the new modes for community living, governing and human relations as we confront environmental and civic challenges.
Radetzki intends his works to serve as creative catalysts for regeneration of urban and natural environments as well as for transformative social and aesthetic interrelations.
The artist presented solo exhibitions in New York, US, Mexico, Brazil, Belarus and China. His works were also featured at Manifesta 11 (Cabaret Voltaire, Zurich, Switzerland), dOCUMENTA 13 (Hauptbahnhof, Kassel, Germany), 4th Moscow Biennale of Contemporary Art, 4th Moscow Photo Biennial (Manezh); Manifesta 4 (Frankfurt, Germany) and 8th Cordoba Photo Biennial (Spain).
Over the years, Radetzki conducted a series of independent 'field-artworks' which took place at the remote locations in the Amazonas, Himalayas and Andean Puna among others, and which comprise a unique group of works within his oeuvre.

The artist lives and works in New York.

contact: pashara [at] gmail [dot] com